Advancing Social Connection Through Rigorous Science At Annecy Behavioral Science Lab (ABSL), our mission is to leverage the potency of behavioral science to fortify social connection, combat loneliness, and empower society. We represent a team of seasoned professionals and dedicated advocates for methodological precision, data science, and adept multi-site complex project management, all united under a singular objective: the cultivation of a world where authentic social connections flourish.
Bridging Societal Gaps: Our distinct forte lies in skillfully bridging the chasm between pioneering methodological practices and their real-world applications. Our raison d'être is to equip our clients with the ability to confront pressing social and commercial challenges without the encumbrance of navigating intricate methodologies. 
Embracing Excellence Over Prolificacy: We subscribe to the principle that investment in the caliber and rigor of behavioral science is not merely cost-efficient but fundamentally imperative. History has imparted invaluable lessons about the perils of inadequately conducted research, which can lead astray and squander valuable resources. By elevating the primacy of quality, we ensure that your investments yield meaningful, influential outcomes.
Beyond Academia: The COVID-19 pandemic underscored that impactful science knows no boundaries. As an adaptive enterprise, we remain attuned to the evolving landscape of best practices. This adaptability furnishes us with the agility to pursue pivotal initiatives and innovations that may be fraught with challenges within conventional academic frameworks.

Founded by Visionaries: ABSL stands as a testament to the visionary leadership of its co-founders: Dr. Hans Rocha IJzerman, a distinguished psychological scientist and published author, alongside Miguel Silan, an expert in qualitative research and the orchestration of large, complex multisite studies. Collectively, we champion the cause of rigorous and profoundly pertinent psychology.
Impact Through Exemplary Relevance and Rigor: Beyond the realm of science lies our unwavering commitment to effecting transformative change. We extend a cordial invitation to embark on a collaborative journey with us, one marked by the resolution of intricate social dilemmas. 
Together, we forge the impact that invigorates social bonds and diminishes the specter of loneliness. Embrace the opportunity to unite with us in our odyssey toward a world that thrives on genuine and robust social connections. Let's embark on this path of lasting significance together.

Transparency and accountability
At ABSL we value transparency and accountability.  This means that when doing research, we commit to (and help others in) doing open science, as far as ethically possible. We are thus transparent in our internal and external affairs – where the rationale for company decisions are clearly laid out to members, clients, and other stakeholders. 
At ABSL rigor is a top value. We pursue – and build the capacity of others for –best practices in behavioral science research. We do so even when it is "inconvenient". We believe the time and effort it takes to be rigorous pays for itself in the long-run. Further, we believe that as research tackles more and more consequential topics (poverty, mental health, environmental sustainability, et cetera)  there is no choice but to be extremely rigorous. 
At ABSL we also value courtesy and caring. For our clients, this means that we are responsive and dedicated in our communication, and in achieving our agreed upon goals. For our team, this means creating a safe work environment that encourages speaking up, especially for ethically challenging issues
At ABSL, we also value the empowerment of each member. This means that the company is democratically run and that team members collectively guide the company's direction.
Doing Good, and Doing Good Science
Finally, at ABSL we believe in doing good. Doing good includes pursuing projects that have impact to the lives of people. Doing good also means taking ethics seriously and conducting thorough stakeholder analyses if ethical issues arise in the company's operations. 
By doing good, this also means supporting team members in their initiatives to invent and improve science that are traditionally not valuated within the university system, but are not nonetheless important to the field. Such initiatives include contributing to activities in big team science, psychology in low- and middle- income countries, and psychology that have real impact in people's day-to-day lives. Our team members are given time to work during company work hours to focus on their own projects to ensure they contribute to the science we hold dear.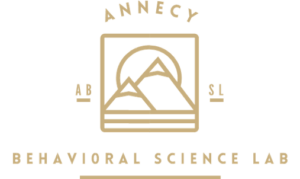 74290 Menthon Saint Bernard